REWIND: When record-breaking heat revealed an archaeological monument in the Vale of Glamorgan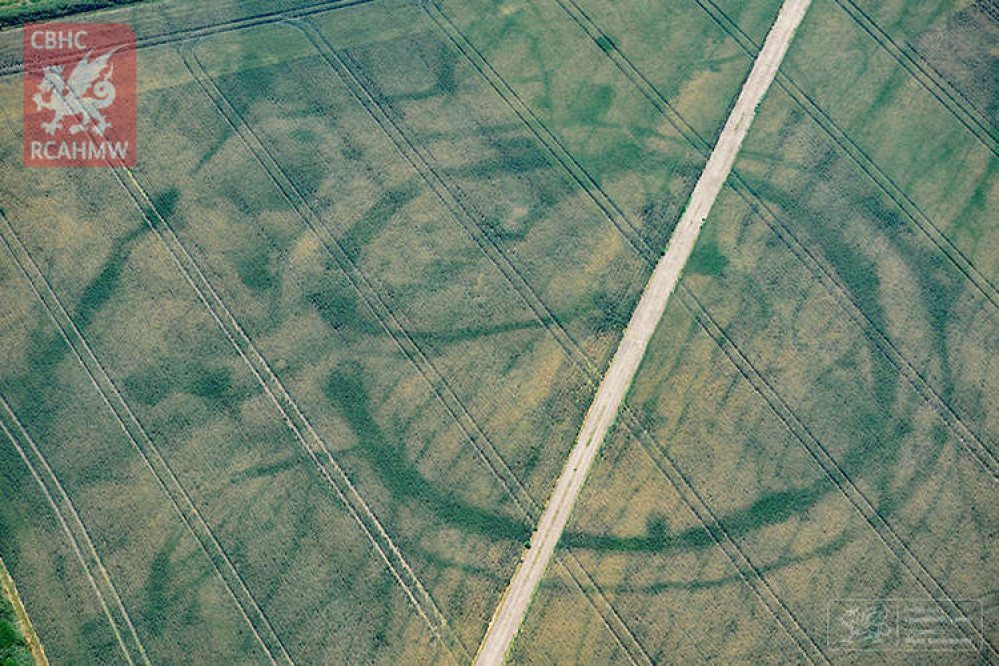 Cropmarks of a large prehistoric enclosure in the Vale of Glamorgan, with the faint footings of a probable Roman villa within (Crown Copyright RCAHMW)
Archaeological revelations are probably not at the forefront of your mind in weather like this.
But back in 2018, the Royal Commission on the Ancient and Historical Monuments of Wales explained how an unprecedented spell of hot, dry weather across Wales provided perfect conditions for archaeological aerial photography.
As the drought persisted across Wales, scores of long-buried archaeological sites were revealed once again as 'cropmarks', or patterns of growth in ripening crops and parched grasslands.
There was a surprise in the Vale of Glamorgan where severe drought at a known prehistoric settlement showed new cropmarks of a Roman villa within its modified ramparts.
The exact location is not disclosed to protect the site.
At the time, Dr Toby Driver, Senior Aerial Investigator, said; "I've not seen conditions like this since I took over the archaeological flying at the Royal Commission in 1997. So much new archaeology is showing it is incredible; the urgent work in the air now will lead to months of research in the office in the winter months to map and record all the sites which have been seen, and reveal their true significance."
Nub News spoke to Karl-James Langford FSAScot, MLitt, of Archaeology Cymru to find out more about the significance of the Vale of Glamorgan discovery.
"The landscape from the aerial photograph illustrates an extensively occupied landscape," he said.
"Our ancestors utilised the rich flat coastal plane for agriculture, and the mainly linear lines on this aerial photograph show field boundaries and plough lines from at least the British Iron Age (from 400 CE - nearly 2,500 years ago).
"The circular enclosure from the image is typical in scale and arrangements to an Iron Age enclosed settlement.
"However it may have begun, as with aerial photographic evidence at Norton near Ogmore, as a Neolithic Causewayed enclosure (from around 5,000 years ago; which was a sky burial site) ."
Karl explained that other extreme weather conditions can lead to archaeological discoveries.
"Not only do these landscapes reveal secrets through dry spells, but snowy spells also and other conditions," he said.
"All of our history is a revelation. Such landscapes, offer a diverse picture of Cymru/Wales, a taskscape that is for ever changing, but intermingled on earlier templates of our ancestors occupation.
"Aerial photography in general offers a stab at the archaeology that is undetectable with the naked eye on the ground."
This is not the first time aerial photography has been used to uncover local history in the Vale; in 2014 Archaeology Cymru member Stuart Jackson recognised a site near Cosmeston through this medium.
"It was a wonderful linear enclosure from the Roman period, recognised via aerial photography," said Karl.
"It is an enclosure shaped in the form of a rectangle and the east boundary is formed by a modern hedge on a slight bank traceable from the air.
"To date it we found Roman period pottery, scattered across the site, and evidence of metal working."
To learn more about local Roman history, visit here .