Local police and health staff awarded MBEs in Queen's Birthday honours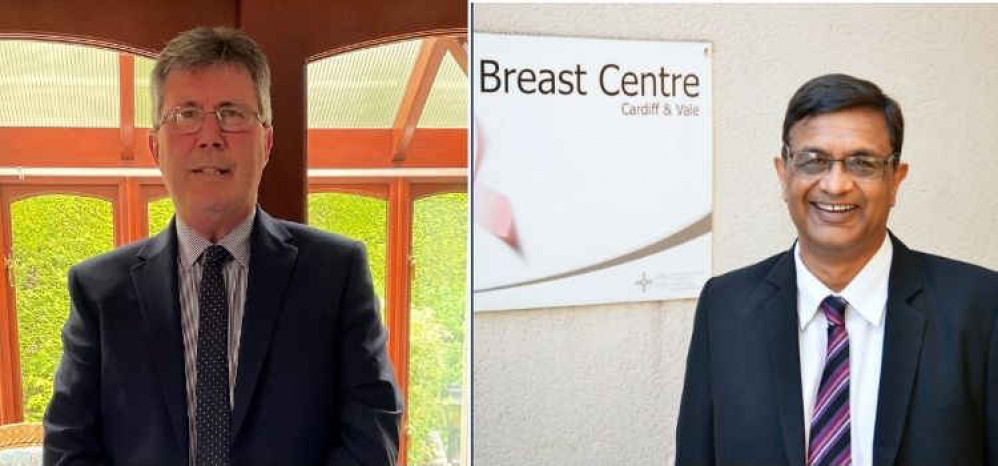 Peter Thomas (left) and Sumit Goyal
Staff at the local health board and South Wales Police were named on this year's Queen's Birthday Honours list and will be awarded with an MBE for their services.
Mr. Sumit Goyal is a Consultant Oncoplastic Surgeon in the Cardiff and Vale University Health Board since 2003. He became the lead for the Breast Services in 2006, a position he held for 10 years.
His passion and enthusiasm to improve the quality of the breast services saw him getting approval for a purpose-built Breast Centre at the Llandough site. The centre was built around the comments from patients and staff, lessons learned from visiting other centres with a view to provide high quality care for the patient and high satisfaction for staff.
The centre opened its doors in October 2010 and brought breast services under one roof and established the One Stop Breast Clinic.
He had the foresight to improve the patient care even further, and to this end in 2010 he established the Cardiff Breast Centre Charity, that has raised over £750,000, money that has been used to improve the care of breast cancer patients to provide them with holistic care.
Peter Thomas, South Wales Police's Force Advisor on Mental Health, was also awarded an MBE.
Mr Thomas, who has been in his current role since 2009 – he served as a police officer for 30 years prior to that – said: "I am very humbled, and extremely proud to accept this award on behalf of South Wales Police."
The mental health triage service was established in 2019, with nurse practitioners based within the Public Service Centre able to provide appropriate intervention at the first point of contact to people in mental health crisis or distress.
Engagement with the triage team increases confidence amongst officers, supporting them to use strategies in the management of mental health concerns, and puts the individual at the centre of service, ensuring they can be appropriately safeguarded.
Peter said: "It's been a success story for us. It's a top-class service and has been everything we wanted, and more."
Peter explained that incidents throughout his career in the police have stuck with him, including being one of the first officers on the scene of a murder in Cardiff in the early 1980s in which the perpetrator had a serious mental health illness.
And he has also been influenced by circumstances in his personal life.
He explained: "In 2001 I lost my son Jonathan, who was studying to become a doctor at the medical school in Cardiff. He had mental health issues and he took his own life. "It made me realise that if you can reach someone before they become seriously unwell, it can help save them and make a difference. That has driven me on." An award and bursary in Jonathan's memory was established by Cardiff University's School of Medicine. Peter added: "When I was asked to take on this role, I thought I could make a difference and that's what I have tried to do, to raise the bar. "I have always worked on the maxim that you give more than you take, and that's what we have tried to do with this service." Chief Constable Jeremy Vaughan said: "I'm delighted that Peter has been recognised with an MBE. It's testament to the hugely valuable and important work that has been carried out by the mental health triage team and by Peter – following a career with South Wales Police which began in 1979. "His commitment and dedication to ensuring the best possible service is available for those in need is an inspiration. Da iawn, Peter."