Abandoned pet silver fox has foot amputated after being caught in snare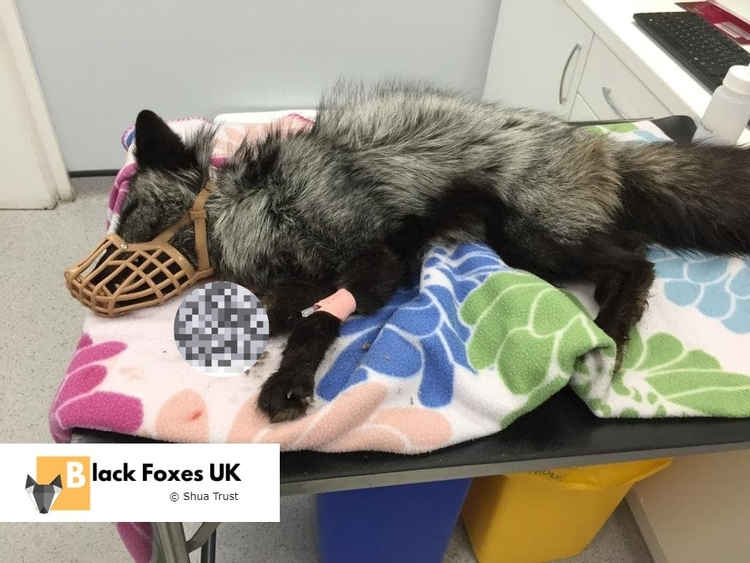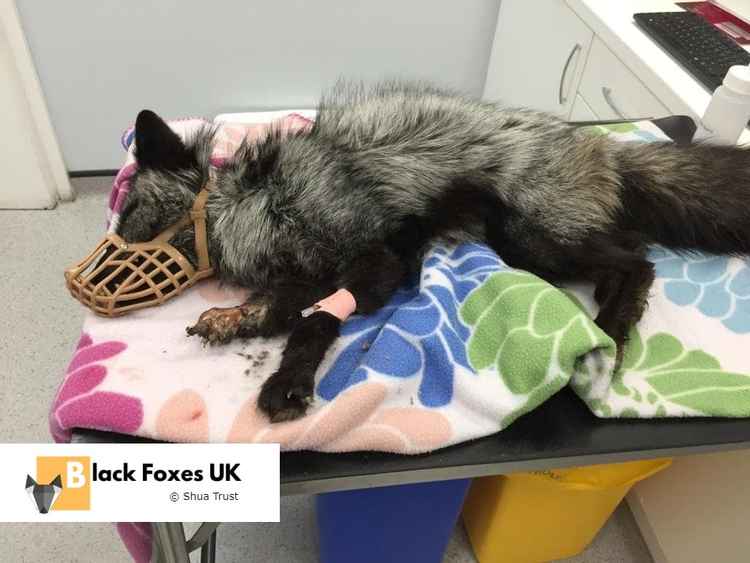 An abandoned pet silver fox has had its foot amputated after being caught in a snare in Barry.
Black Foxes UK CIC had been attempting to rescue the female, which they have called Luna, for two weeks and say a suspected male fox is still on the loose with an injury to either it's front left or rear leg.
The CIC are appealing to Barry residents to send in any information on sightings of the fox so it can be brought in for treatment and rehomed.
"There's several issues tied into one. We know they're abandoned, and we've been working with the local animal warden," said Hayley De Ronde, from Black Foxes UK.
"We can't confirm who the foxes belong to yet. There isn't any action that needs to be taken, but we are able to rehome them. The female is now recovering from her surgery, she's doing okay.
"Once Luna has the all-clear from the vets, she'll be sent to her new home to finish recovering and hopefully be introduced to a few foxes that are quite known for their escape attempts, previously rehomed by ourselves to an animal establishment.
"There will be a team of keepers available should there be any need. They are known to be escape artists and difficult to keep as pets.
"Keepers learn in their first year how hard it is to contain them," she said.
Lee Saif, who is known by many in the community for having pet silver foxes confirmed the foxes were not his.
"I'm a little bit concerned because we haven't had any sightings of the one still out there," said Hayley.
"It's possible he's lying low because he knows we caught the other one, and he knows what the game is now. But at some point he's going to be hungry and come out.
"We do need people to keep reporting sightings to us, just because we've caught one doesn't mean it's over.
"We're assuming it's a male based on size, and he's got a mild limp. We don't know if that's also a snare injury or a RTA," she said.
An anti-snaring campaign is currently being heard by the Welsh Assembly.
"I didn't realise snares were illegal myself," said Hayley.
"It's a severe injury, some of the pictures are really quite horrific. It's quite distressing seeing her face, it must have been very very painful.
"Cats can also get caught in snares," she said.
Click HERE to report a sighting.
New Sightings:
In order to reassess the situation and to coordinate sightings of the TWO domesticated #SilverFoxes that remain on the loose in Barry, Wales (interim holding at a fox rescue secured), and to prioritize the injured fox (donations needed to cover veterinary costs), we need those who see the foxes to;
1) Put the location into the website linked here >> what3words.com
2) Once you have the What3Words code, hit the copy button
3) Open a Direct Message (DM) to Black Foxes UK CIC or a text message to 07490127017
4) Paste in the What3Words code into the message
5) Add the date and time the fox was seen to your message
6) Make a note of whether the fox was injured or uninjured, attach a single photo/short video, if you have one, and send.
Example:
///treatable.accordion.ketchup
Date & Time
Uninjured/Injured
Photo/Video attached Do not approach, chase or feed these foxes. Follow Covid regulations.